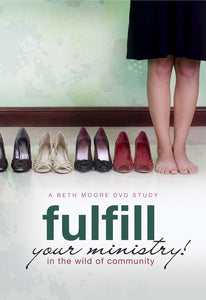 Fulfill Your Ministry Bible study by Beth Moore
"Every single one of us has a very vivid, very specific outpouring of ministry we were placed on this planet to accomplish." - Beth Moore.
Have you asked yourself? What does it mean, or what does it take to fulfill my ministry? Are you ready to set your life goal in your holy calling? Explore 2 Timothy 4 with Beth and learn how to fulfill your ministry.
Set includes:
3 DVDs  (Session one: 80 minutes | Session two: 60 minutes | Session three: 45 minutes)
1 Listening Guide
Closed Caption available


Download a Free Promotional Poster