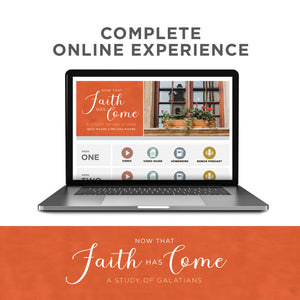 Now That Faith Has Come: A Study of Galatians – Online Experience

Beth and her daughter Melissa team up once again to co-write this seven-week deep dive into Paul's letter to the Galatians, which is astonishingly relevant to our present world.

The complete online experience contains all the elements of your in-depth Bible Study: weekly Video teachings with Beth, weekly Video Guide for note-taking during teachings, five days of homework each week, and a bonus podcast.
If you purchase this product, you do not need to purchase the Digital Workbook. All the contents of your study are included within the Complete Online Experience. 

Videos included in this product are closed captioned.
Videos included in this product are not available for download.

Note: If using an iPad you will need to download the GoodNotes app to upload your PDF. 

CHANGE SKU 02.01.22