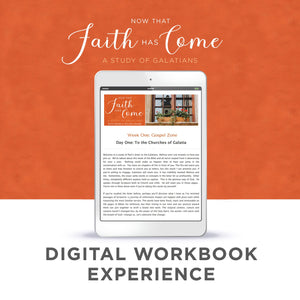 Now That Faith Has Come: A Study of Galatians – Digital Workbook
Beth and her daughter Melissa team up once again to co-write this seven-week deep dive into Paul's letter to the Galatians which is astonishingly relevant to our present world.
The digital workbook contains these elements of your in-depth Bible Study: (videos not included) weekly Video Guide for note taking during teachings, five days of Homework each week, and a bonus podcast.
Videos available for purchase individually.
Note: If using an iPad you will need to download the GoodNotes app to upload your PDF. 
CHANGED NEW SKU 02.01.22