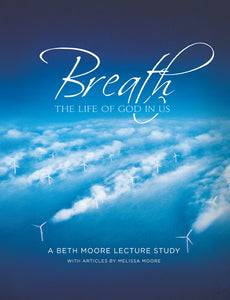 Breath: Life of God in Us by Beth Moore
There's a very big difference between being created by God and being invaded by God. Reflecting on the person, the work, and the power of the Holy Spirit.
Set includes:
6 DVDs (Session one is 60 minutes. All others are 90 minutes.)
Listening Guide (Listening Guide plus articles by Melissa Moore)
 Breath Promotional Poster (View In PDF)
Click here to view preview.