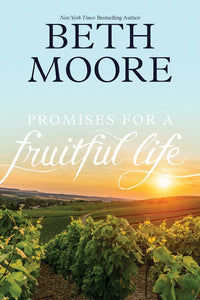 Join Beth Moore on a fruitful journey through 31 unforgettable promises from God's Word.
God wants you to flourish in Him. Every last thing He plants in your life is intended for that purpose. It's all part of a process to help you grow and bear fruit.

In Promises for a Fruitful Life, bestselling author Beth Moore has captured some of her favorite promises about the abundance Jesus has in mind for us. Drawn from passages and Scriptures brought to light in Chasing Vines, this little book will remind you that your life matters--and that nothing you've experienced will be wasted by the One who created you.