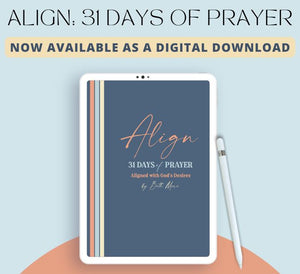 This practical 31 Days of Prayer digital resource includes a daily Scripture, a devotion by Beth Moore, a 7-Fold Approach to prayer, and a space for your reflections that will guide you into aligning your prayers with Christ's priorities.

This is a downloadable product only. After purchasing, you will receive a confirmation email, and a second downloadable link will be emailed to you shortly after. 
Note: If using an iPad you will need to download the GoodNotes app to upload your PDF.