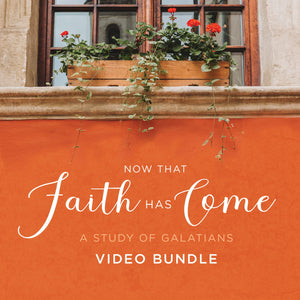 Please consider that these downloads are intended for individual use by the person that made the purchase and should not be copied or shared.
Session 1 (31:21)
Beth introduces the six-week in-depth study of a letter of inestimable impact on the identity-formation and theology of the New Testament church.

Session 2 (27:05)
Beth transitions us into the second chapter of Galatians. We're establishing zones to preview the property that you have ahead. 
Session 3 (30:56)
We move into our third week of study and the third chapter of Galatians. Within these 29 verses we find a zone-word that carries endless implications.
Session 4 (36:48)
Beth takes us to the halfway point in our study of Paul's revolutionary letter to the Galatians. We begin our preoccupations with one of the most fascinating chapters of the book.
Session 5 (37:03)
Beth teaches on Galatians 5, the chapter for which the letter is perhaps most well known and loved. 
Session 6 (30:55)
Beth walks us through to the sixth and final chapter of Paul's letter to the churches of Galatia.
Session 7 (40:26)
Beth concludes the six-week study of the book of Galatians.
CHANGED TO NEW SKU 02.01.22